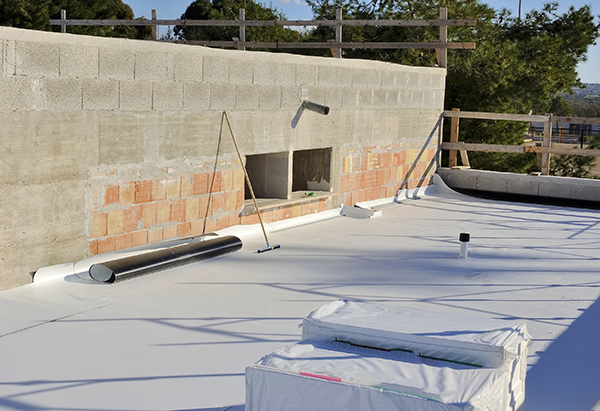 What's the best commercial roofing system for Toronto ON properties? Is it TPO roofing system or EPDM?
In today's blog post, let's compare the two head-to-head to find out how they are alike and different.
These are some of the goals that we aim to achieve towards the end of this article:
Learn about the differences of TPO roofing system and EPDM
Look into some of their most unique properties
Find out the advantages over the other choice
Price differences
Without further ado, let's begin…
What Are Single-Ply Roofing Membranes?
In order to successfully compare TPO and EPDM flat roofs, let's first try to understand what they are and where they come from.
Both of them are categorized under what we refer to as single-ply membranes. They come from the same group and could be considered as family members. There are common denominators but there are distinctions as well.
Single-ply roofing membranes, coming from its name, is designed to be installed in only one layer. That's enough to cover the entire surface and completely protect it for a long time.
In general, single-ply roofing membranes are known for their excellent waterproofing capabilities. They are widely used for flat roofing in commercial and residential constructions. Many roofing contractors recommend single-ply membranes because of its durability, flexibility, and affordability.
Two Main Types of Single-Ply Membranes
Under the single-ply roofing membrane umbrella, there are two groups.
Why is it important to dissect single-ply membranes further? This is done not just for added knowledge but also for compatibility purposes. Some materials may be combined with other roofing systems, some are not. Because of sensitivities involved, you have to consult professional roofers before you make any decision for your property.
Read about the two main types of single-ply membranes below and learn where TPO roofing system and EPDM belong:
Thermosets
Thermoset membranes are produced from various synthetic rubber polymers. EPDM is one of the most popular roofing options under this group.
Thermosets membranes are great for larger flat roof areas as they can effectively seal the seams and edges. Some EPDM roofing systems have carbon black ingredient that increases the UV protection.
On the other hand, there are lighter-colored EPDM as well, sometimes white, that contains titanium dioxide. This is responsible for increasing its reflectance properties.
Thermoplastics
Coming from its name, thermoplastic roofing membranes are plastic-based. They also have reinforcement layers in the form of polyester or fiberglass. These ingredients help to strengthen the compounded material.
Some of the most popular thermoplastics include PVC and TPO roofing system. They are also famous for being energy efficient.
How To Install Single-Ply Membranes?
Single-ply membranes like TPO and EPDM are relatively lightweight. Hence, they are also fast and easy to install.
The installation process depends on unique situations and the type of your building.
These are the methods that are being used by professional roofing companies worldwide. (Again, it's crucial to know these bits and pieces of information in order to successfully build a sturdy and long-lasting flat roof):
Ballasted
If your building is capable of taking on significant added weight, your roofing contractor may recommend the ballasting method.
Ballast is a form of gravel applied to single-ply roofing systems like TPO roofing system and EPDM. It effectively weighs down the roofing membranes to fix and seal them in place.
According to experts, roofs that have a slope greater than 1″ in 6″, this method is not advisable. Always seek professional advice when choosing a roofing membrane along with the installation method.
Mechanically Fastened
Mechanically fastened single-ply roofing is suitable for almost all types of slopes. Roofs that are made from wood or steel are also ideal candidates for the mechanically fastened method.
Most roofing companies recommend this for areas that are prone to hurricanes and heavy thunderstorms.
This method makes use of screws and metal plates to completely attach the roofing material on to the surface.
Fully Adhered
This method utilizes adhesives (or simply, glue) that are either asphalt, solvent, or water-based. As expected, a successful fully adhered installation can effectively waterproof the surface.
The main reason why building owners want a fully adhered roof is that it looks good from the outside. However, it shouldn't be the only basis. You should also know if the material is compatible with this method and if it can thrive well in your location's weather condition.
Why Choose EPDM?
Toronto ON business owners choose EPDM over other options (TPO roofing system included) because it is 100% recyclable. People who are eco-conscious are drawn towards solutions that promote sustainability.
Apart from this, there are other great qualities that you can expect from an EPDM roof…
Cost-Effective
EPDM products are available in the market for as low as $0.4 per square foot. This is significantly cheaper than other roofing systems.
Longevity
This single-ply membrane is known to last for about 40 years. You can unlock this potential if you take care of your flat roofing the right way.
Ask your commercial roofing contractor on how you should properly maintain the stability and condition of your EPDM flat roof.
Why Choose TPO Roofing System?
A TPO roofing system also has the same qualities as EPDM. This isn't a surprise because they come from the same family. However, this particular single-ply membrane can only last for up to 30 years (a little lower than EPDM).
Related: A Lowdown on TPO Membranes: TPO Roofing Problems To Be Aware Of
To know more about TPO, here are things that you need to know…
UV Resistant
TPO can effectively bounce off UV rays coming from the sun. As a result, the building stays cool for the longest time even during hotter months.
Regulated temperature can help lower the need for cooling appliances/equipment. What does this mean for you as the business owner? You can save on utility costs for up to 50 to 60%.
Affordable
Like EPDM, most roofing contractors consider a TPO roofing system as affordable. While it costs more than EPDM, it is still pretty cost-effective at $5 per square foot.
Appearance
TPO roofing system is available in various colors. Business owners can choose among the many options to meet their design requirements.
EPDM is mostly available in color black only which could be a downside for people who want to maximize the appearance of their properties.
Next Read: EPDM vs Modified Bitumen Roof Life Expectancy: Which Is the Best Roof?
Conclusion
Have you figured out which one's the best? EPDM or a TPO roofing system?
Aside from the advantages, you also need to think about the overall compatibility. Licensed roofing companies include other factors when coming up with recommendations. For instance, they look into your long-term priorities, the location, budget, weather conditions, the structure, etc.
If you haven't found the right flat roofing material, let Cox Roofing Systems help you decide on it. For more than half a decade now, we have been the most trusted commercial roofing company here in Toronto ON. Our well-trained roofing specialists will be waiting for your call: 705-665-0995.