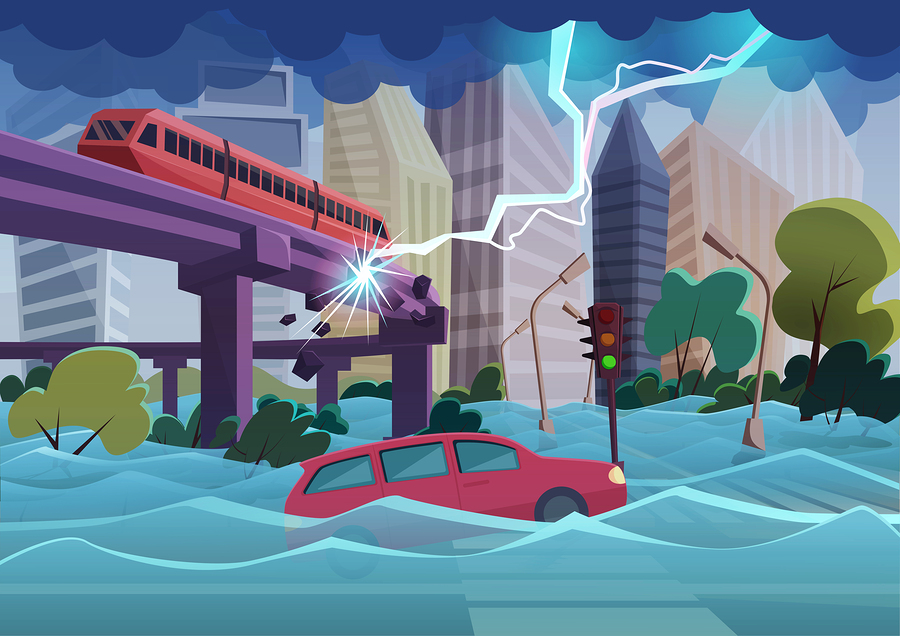 Have you been hit by a terrible snowstorm recently, flooding maybe? Regardless of what harsh weather condition has passed, you cannot help but worry about your flat roofing. If you're in doubt or simply want to prepare for tough times ahead, read about the flat roof insurance claim tips that we've prepared.
Related: Toronto Property Tips: How Long Does Your Type of Commercial Building Roof Typically Last?
Storm damages are already stressful enough. Thus, the flat roof insurance claim process shouldn't add more stress on your part. Is this possible?
Yes, it is. It is overwhelming in the beginning but if you know your way through it, the whole process should be fast and convenient.
To expedite and make the workload lighter for you, here are some of our tips that you can follow:
6 Easy Steps To Follow When Filing Roof Insurance Claims
It's already a tough feat to run a business. We don't want to make it even harder for you when it comes to the flat roof insurance claim. Since storms and unpredictable weather conditions can take a toll on your commercial flat roof, you have to be aware of the right things to do.
Without further ado, here are the easy steps that you should follow:
Step 1: Initial Roof Damage Inspection
Once the storm has passed, it's now time to look around and observe obvious damages to your roof. You don't have to climb up the building yourself. If you have a maintenance or utility team, you can assign personnel to check visible damages.
Because going up the roof is an extremely dangerous task (not to mention potentially destructive as well), it's better to look around without having to climb up. How is this possible?
Check the ceiling, flooring, walls, windows, gutters, and other accessible parts of the building. If they notice something unusual such as marks, dents, streaks, or leaks, instruct your staff to take photos or videos as part of the documentation process.
Bonus Tip: Even if assessments and inspections are not yet completed, it's best to go back to your roof insurance policy. Read and review its coverage, terms, and conditions. So that when you finally get to the filing stage, you are prepared enough.
Step 2: Call Your Roofing Contractor
The first step is just an initial assessment of your roofing condition. It's more of getting an idea of what has happened but not a full understanding of what your roofing needs. (This is the job of professional roofers.)
You need help from experienced roofers who are trained to inspect and check damages thoroughly. Their extensive knowledge in dealing with storm damage enables them to come up with a detailed recommendation of whether to pursue an insurance claim or go ahead with the minor repairs.
The roofing company will also prepare a comprehensive proof of damages that include measurements, dates, historical background, etc. They will share this with you which will be useful when you file for a flat roof insurance claim.
You can also give them a copy of the photos and videos that you have gathered. This can help pinpoint areas that need their urgent attention.
Bonus Tip: Find a roofing contractor that has a background on any flat roof insurance claim. Why? They can help expedite and simplify the whole process for you. Admittedly, filing for insurance claims can get frustrating but if you have guidance coming from your roofing partner, it should be fast, convenient, and smooth.
Step 3: Schedule An Appointment With Your Insurance Provider
The next step is to simply call and set an appointment with your roof insurance service provider. Don't forget to ask for all the necessary requirements so that you wouldn't have to go back and forth.
In your meeting, present all the documents and evidence that you have related to the storm damage. You can also use the roofing company's recommendations to back up your claims but most important of all, you should have the photos that can immediately explain what the scenario is like.
Every insurance policy is different. Some policies are comprehensive, meaning, they cover all types of damages. But there are policies as well that can have specific limitations. Some insurance covers a certain amount and not the whole, while some will cover everything.
Because the flat roof insurance claim varies, you need to carefully discuss what the terms are relating to your own property.
Extensive roof damage calls for your immediate attention. Hence, make sure you report it to your insurance provider right away so that they can urgently schedule a site visit if needed.
Step 5: Sign The Contract
You have to keep moving until a contract has been made. This will signify that there's an agreement in place between you, the roofing company, and the insurance provider.
The roofing contractor will not and cannot begin any construction without a properly signed agreement. Some roofing companies can finance the roofing services especially if these are urgently needed. However, all the services should fall under the contract.
Any service that's outside the flat roof insurance claim will not be covered and will be shouldered by the client or the building owner.
Step 6: Move Forward With The Roof Repairs
When everything is set (legally speaking), it's now time to move forward to the actual roofing job.
A licensed roofing company knows how to work within a contract and should always consult or update you for any development, requirement, or day-to-day updates.
Truly, it is extremely crucial to choose a local roofing contractor that understands the whole process. It's difficult to work with someone who has zero knowledge about a flat roof insurance claim. It can add up to your stress and inconvenience.
Need Help With Storm Damage Repairs?
Storm damage, no matter how big or small, can lead to serious safety concerns. You should deal with them asap (no excuses).
As a Toronto ON building owner, many people count on you. In fact, their lives depend on your decisions. So if you are facing suspect storm damages, always go back to this post and follow the 6 easy steps that we've prepared.
We guarantee you that once you found a trusted local roofing company who will not only fix your roof but will also assist you in your flat roof insurance claim, your life will be so much easier.
Next Read: The Best Options for Toronto ON Commercial Roofing Materials This 2019
How To Find The Right Roofing Contractor In Toronto ON?
Looking for a commercial roofing company that you can count on in times of need?
Here at Cox Roofing Systems, you and your business are in good hands. We have a proven track record in deploying well-trained and experienced roofers who will not only get the job done but will also be with you every step of the way.
We only use the best roofing products to make sure that we will be able to bring back the life and the crowning glory of your commercial property.
What are you waiting for? Work with the most trusted Ontario-based commercial and industrial roofing contractor. We offer free annual roof inspections. Dial this number to know more: 877-264-6983.