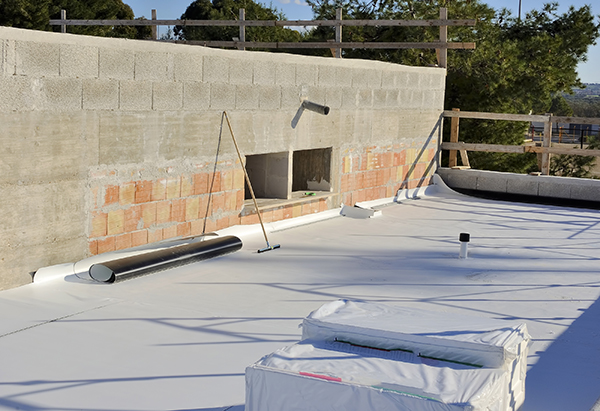 "What is a TPO roofing system?"
This isn't a new question for us. In fact, we have talked about TPO and its specifications several times already. It's because we believe that TPO is indeed a promising commercial flat roofing system. We also think that more Toronto business owners should get to know what this is all about.
TPO deserves its own spotlight. However, while it has a good side, people should also be aware of the issues that it may have.
Related: TPO: Waterproofing Membrane Specification
Today, we'll tackle the core compositions of a TPO roofing system and also see if there are downsides to be mindful of.
Without further ado, here is more information about TPO…
What is a TPO Roofing System?
TPO or thermoplastic polyolefin is one of the popular single-ply roofing membranes available in the market. It is usually used for commercial flat roofing systems, hence, you'll see them in buildings and large industrial properties.
As the name implies, single-ply membranes are called such because roofers only need to apply one layer of material to completely cover and seal the surface. Other roofing systems like BUR require multiple layers of materials upon installation.
If you still don't know what is a TPO roofing system, here's what you need to know. A TPO membrane is a rubber-based roofing material. It is made from a synthetic elastomer called ethylene propylene rubber. This ingredient is then combined with a thermoplastic polymer known as the polypropylene. These two main components are polymerized and bonded together to finally form what we call TPO. Some fillers or additives may also be included to enhance the finished product.
How is it Different from PVC?
There are people who are PVC with TPO since they are both thermoplastic and single-ply membranes. They technically come from the same family. However, these two are extremely different from one another – that is if we'll talk about their base chemical compositions.
As we have mentioned above, TPO is composed of ethylene propylene rubber and polypropylene. On the other hand, PVC or polymerizing vinyl chloride is derived from the mixture of ethylene and chlorine. If you'll notice, PVC has chlorine which is known to be harmful to the environment. Hence, if you're looking for a more eco-conscious material, you might want to choose TPO.
Top 3 Reasons to Choose TPO
For Toronto business owners who are still unsure whether to install TPO or not, here's a list of things to expect. Hopefully, towards the end of this blog post, we'll be able to help you come up with a sound decision.
#1 Environment-Friendly Alternative
This tops the list as more and more building owners are prioritizing eco-friendly solutions. Given that we're already facing climate change, people need to reevaluate their purchases and choices. And one of the most recommended alternatives when it comes to commercial roofing is none other than TPO. Why? TPO is 100% recyclable, as simple as that. It helps reduce the amount of roofing waste that ends up in landfills.
#2 Energy-Efficiency Properties
This is also one of the top reasons why building owners choose TPO. TPO naturally reflects sunlight and ultraviolet rays. In simpler terms, it doesn't help absorb excessive heat which regulates the temperature inside the property. Since a TPO material doesn't trap heat, it has proven to lessen the need for cooling appliances. This is a great news for business owners as they can also cut on electricity bills.
#3 Ease of Installation
If you're looking for a material that's lightweight and easy to install. Then, you might want to look into what TPO can offer. TPO is less complicated to install which also makes it faster for workers to finish the job.
Apart from the top 3 reasons provided above, it's also good to note that TPO has excellent waterproofing capabilities. It is also highly durable and can withstand external impact whether it be a storm or an extreme temperature.
What are the Most Common Issues with TPO?
Time and again, we emphasize the need to know what product you're dealing with completely. A 360-degree understanding of the material will help you cope up with potential issues more efficiently.
Since we're committed to giving you as much information on what is a TPO roofing system, we have outline existing issues that you have to be aware of.
Shorter Lifespan
Admittedly, there are roofing products that can last up to 50 years or more. However, it's not the case for TPO roofing systems. They normally reach up to 30 years in an average if given the right maintenance procedures.
Price Difference
If you come to think of it, TPO is still on the affordable side costing about $5 to $6 per square feet. However, for some building owners, they would rather go for cheaper options available like felt or EPDM.
Leaks
Yes, we have mentioned how TPO has the ability to watertight the roofing to prevent leaks. However, there are complaints about leaks due to improper installation. While it is an easy material to handle, there is a need to hire an experienced roofer to make sure that it is installed correctly using the right tools.
Prone to Punctures
It's possible to walk on a TPO roofing. However, building owners have to be careful about this as walking may cause punctures as well as other external elements (debris, tree branches, etc.). To prevent punctures, business owners are advised to keep all surrounding trees trimmed (as much as possible). They can also consult their trusted roofing contractors on the feasibility of installing a protective mat that people can walk on to minimize damages.
Summary
If you want to know what is a TPO roofing system, aside from the benefits, you also have to learn about the possible issues that may arise. Remember that for every conflict, there is a solution. Hence, it's best to always consult a licensed roofing contractor to give you the most accurate and industry-based insights.
Need more help on TPO roofing systems? Reach out to Cox Roofing's team: 877-264-6983. We also give free consultations so make sure to contact us today.