The journey of entrepreneurship can be downright challenging. If only there was a ready-made map that could tell business owners, especially startups, on what to expect during their first year of operation.
Market analysis… Check!
Branding… Check!
Physical supplies and products… Check!
Office staff… Check!
A reliable roofing system… Is this really part of a business owner's checklist?
Well, who would ever anticipate roofing problems to happen in the middle of a year?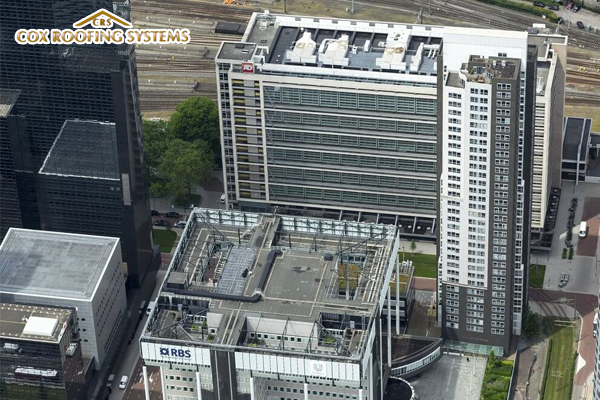 As a business owner, has the thought of roof leaks, high energy bills, and other roof-related problems ever crossed your mind? Most likely not.
Roofs are the most crucial parts that building owners take for granted. It's a very unfortunate thing to hear since your roof works day and night to protect your business from heat, cold, rain, snow, and more.
No business will last that long if owners do not proactively plan their commercial roofing systems.
For example, you can imagine your roof breaking down before it's supposed to just because you hired an inexperienced contractor. Or, it could be that you chose a material that doesn't match your climate and business needs.
These are only some of the things that you should consider.
What does the International Building Code have to say about commercial buildings? According to them, roofing systems should be able to protect buildings.
A roof that properly protects must have a good design, material selection, and most of all, be installed using the right techniques.
In this article, we're going to focus on the advantages of choosing a manufacturer that can provide you with topnotch roofing systems: Firestone Building Products.
Firestone Roofing Systems: Why Choose This Manufacturer For Your Roofing Needs?
If you're about to build a physical business in Canada or looking to repair or replace an existing roof, don't neglect the significance of a reliable roofing system. This is where you will need Firestone Roofing Canada.
Renowned worldwide for more than 100 years, this brand is trusted by commercial building owners.
This manufacturer provides two specific roofing types that we, Cox Roofing Systems, highly recommend for you. These are the Firestone EPDM roofing and Firestone TPO roofing.
What are these two commercial Firestone roofing systems? How do they help you make your building (and business as a whole) a much better place?
Keep reading to find out.
Basics of Firestone EPDM Roofing and TPO Roofing
1. EPDM Roof
This type of roofing stands for ethylene propylene diene monomer. Made of synthetic rubber that is very durable, EPDM material is commonly used on flat roofs of commercial or industrial buildings.
It's characterized by a seamless sheet. Our roofing contractors can easily install EPDM over your building. We offer black and white EPDM colors to suit your tastes.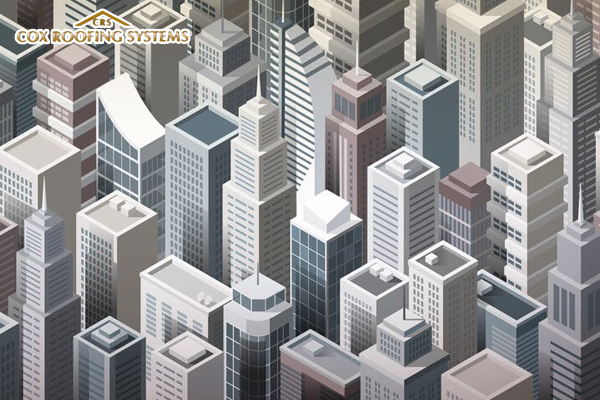 2. TPO Roof
A TPO roof stands for thermoplastic polyolefin. Similar to EPDM, this Firestone roofing systems product is made from rubber. Compared to EPDM, TPO is the newer roofing material.
However, many building owners welcome TPO since it provides many benefits. In fact, TPO is quickly spreading across the market nowadays.
Learn the 6 Advantages of Using Firestone Roofing Canada Products
Without further ado, below are the benefits of EPDM and TPO roofs by Firestone.
1. Longer life expectancy than other roofing systems
Whether you choose to install Firestone EPDM roofing or TPO, you can expect your roof to last up to 50 years. When it comes to running a physical business, the longevity of roof matters more.
However, do remember that other factors impact your roof's lifespan. Aside from the material itself, expect factors such as heavy downpours, sun exposure, foot traffic, and workmanship errors.
Remember to always employ a contractor with a good track record. We recommend that you hire trained Firestone roofing contractors such as Cox Roofing Systems.
2. Energy savings for every business establishment
If commercial business owners knew the best way to save on energy bills, they wouldn't hesitate to do it.
But just in case you don't really realize the benefit of saving energy, imagine being able to invest more in your business since you're able to save. To determine the reason behind the increase in energy consumption in your home, get an energy audit.
Energy efficiency is a huge advantage that accompanies Firestone roofing products. This is one of the best reasons EPDM and TPO have gained massive popularity. Flat roofs such as these even perform better than sloped ones like metal.
Both of these Firestone roofing systems have reflective surfaces. Because of their solar reflectivity, they effectively reflect heat away from your building and back to the atmosphere.
The result? A massive reduction of the temperature of your roof's surface for up to 40%. You will appreciate this benefit if your building uses air conditioning systems all the time.
Simply picture out your employees being able to work and focus better because they feel comfortable.
3. Helps protect the planet
Firestone roofing systems support the cause for a better planet. They do not use volatile organic compounds that are harmful to the environment, people, and animals.
In addition, they made sure that their facilities where they manufacture their products are ISO 14001 certified.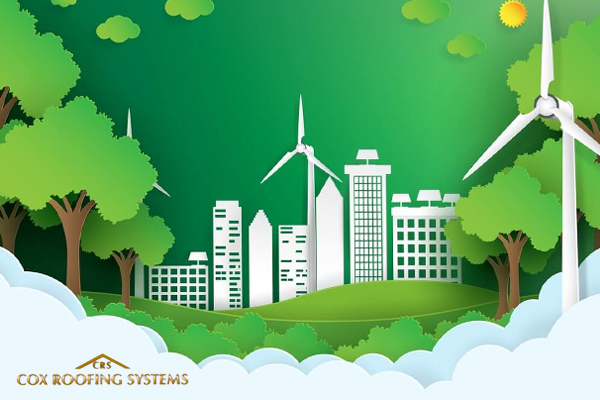 Environmentally-friendly roofing materials have never been more important than today. The fact that Firestone's EPDM and TPO roofing systems last long will already help reduce landfill waste.
Again, these materials from Firestone roofing Canada reduce the use of air conditioning systems. This will prevent your building from contributing to the phenomenon of global warming.
4. Easy installation that means fewer disruptions
As a business owner, you already know how important your day-to-day business operations are. Time is precious which means that time that's not spent working leads to a loss of income.
Businesses have no time to shut down but most of them are forced to during roofing installations and repairs.
Firestone roofing Canada provides roofing materials that are easy to install. There are no flames or fumes involved. Zero noises.
Our contractors at Cox Roofing will perform a hassle-free installation. We can ensure zero dust, debris, and bad odors while we work on your commercial roof.
That way, your business will run as smoothly as possible. There's no downtime and missed business opportunities.
5. Allows you to have green roof and photovoltaic installations
A lot of business owners these days want their workspaces to look more natural. Also, some want clean energy. If these are your goals, consider Firestone EPDM roofing and TPO roofing.
Their flat roofing systems are great to use if you want vegetation over your building. You can install photovoltaic panels too if you like clean and silent energy all year round.
Here are the benefits of both green roofs and photovoltaic panels:
Green Roofs
This is vegetation over an existing commercial roofing system. EPDM and TPO roofing materials are compatible with light and low maintenance plants. The reason is that these rubber roofing materials are highly resistant to wear and tear.
You'll want to grow vegetation on the top layer of your roof because it also helps reduce energy consumption. It does this by reducing the temperature of the air inside your building.
According to Green Building Alliance, green roofs increase the resale value of your building for up to 15%. They also aid in stormwater management and make your building look more beautiful.
Photovoltaic Panels
As we've mentioned earlier, installing photovoltaic panels is possible with EPDM roofing or TPO roofing by Firestone.
TPO roofing is highly reflective which makes it work well with the panels. EPDM does, too, because of its high heat resistance and longer lifespan than most roofing types.
Solar PV panels produce no noise and can be easily maintained. The reason is that they have no mechanically moving parts. Contractors can install solar PV panels without causing disruption to your building's occupants.
6. Protection against product defects
Firestone roofing Canada stands behind their products. They provide Firestone EPDM warranty as well as for TPO to cover you against defects. Firestone's warranty period lasts up to 30 years for both roofing materials.
Remember though that warranties will not cover you against defects that are caused by your own negligence. For example, you've performed a commercial roofing repair on your own and this led to bigger leaks.
7. You don't need to deal with regular and extensive maintenance
Physical store owners or commercial building owners have little to no time for regular roof maintenance. That's most likely the last thing that comes to their minds.
This is one reason why you need to install a reliable roofing system from the get-go. A roof material that will never let you down is one from Firestone Roofing Systems.
TPO and EPDM roof have low-life cycle costs. There's no need for you to maintain them regularly because they're very durable.
Cox Roofing Systems is a licensed Firestone partner.
Here at Cox Roofing Systems, we install Firestone Building Products for commercial roofs. We currently offer EPDM and TPO rubber roofs that are backed by warranties.
Put in mind that good roofing systems are crucial for the success of your business. You can just imagine the negative impact of roof tears, high energy bills, warm indoor temperatures, and leaks.
If you're ready to take a leap towards getting an excellent commercial roof, you can rely on Cox Roofing to help you. Just call us at 877-306-7031.