Finding the right roofing material in Mississauga for your commercial building is the first and most important step to keeping your property safe and getting the best value for your money.
There are a number of things you need to consider when choosing a new roof or replacing one. While price is the most common thing that people pay attention to, other aspects include a roof's lifespan, the weather and climate in your area, aesthetics, and the required maintenance.
When it comes to selecting the best roofing material, there are tons of available types in the market that meet your exact needs. In this article, we will explore 9 possible roofing types for your commercial building and their pros and cons.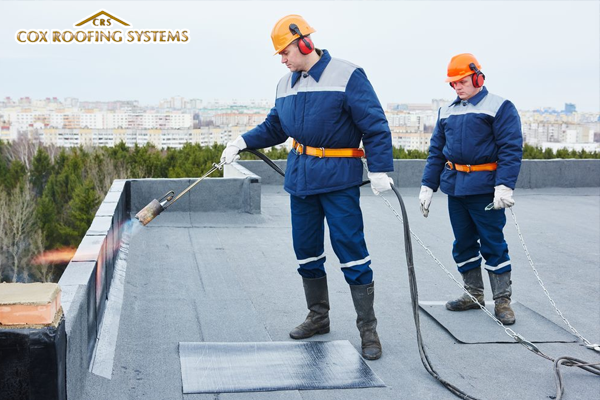 EPDM Roofing
Ethylene Propylene Diene Terpolymer, abbreviated as EPDM, is one of the best commercial roof types made of synthetic rubber. If you own a low-sloped building, then EPDM can be a good choice. EPDM offered by Firestone roofing is known for its excellent resistance against the damaging UV rays from the sun and longer lifespan – up to 50 years.
Commercial building owners find this an appealing choice because they no longer need to take off any equipment on their building just to install EPDM. Since not all roofers are experienced in installing this roofing type, you need to find the right roofing contractors Mississauga to do the job.
TPO Roofing
Another great option for flat roofs for buildings, TPO (Thermoplastic polyolefin) roofing material is also made of rubber. Between TPO and EPDM, TPO happens to be cheaper. Also, remember that the UV resistance that this roofing type offers depends on its thickness.
While TPO is more common among commercial buildings, more business owners are now choosing it because of its outstanding leak resistance, simple installation, and low maintenance. You should know that TPO roofs are new in the industry and need to be properly installed to prevent it from coming loose.
Built-Up Roofing
Abbreviated as BUR, built-up roofing is a category under the asphalt roof system that provides multiple layers of protection against water. But because BUR has several layers, this makes it more difficult to locate the source of leaks just in case a leakage occurs. There may be cracks in several layers which are hard to correct.
However, if you're looking for roof types that require less maintenance and can withstand heavy amounts of traffic (meaning, people can walk on top of it if there are rooftop repairs to be made), the BUR is the one you're looking for.
Corrugated Roofing (Metal Roofing)
This type of metal roofing system can be installed on buildings. Although many people think twice before choosing this material due to its susceptibility to rust, nowadays a lot of manufacturers have tackled this issue by using technological advancements.
When it comes to the benefits of corrugated roofing material, this roof type can last up to more than 50 years. Moreover, it can be recycled completely, and has reflective properties to reduce your energy bills and keep your building's interior comfortable.
Photovoltaic Solar Panels
If you're looking for a sustainable roofing solution, consider getting photovoltaic solar panels. They basically are aimed to help protect the environment by sourcing energy from the sun and converting it to electricity for your building. Business owners who want to save money for the long term and secure energy for their business for years to come choose photovoltaic solar panels.
This type of roofing material is also needed among businesses that operate in geographical locations that are off-grid. Solar panels have no maintenance costs but can somehow be unreliable since they depend on sunlight to give you energy. They may have intermittency issues especially in cloudy or rainy weather.
Tri-Thermal Roofing System
The Tri-Thermal Roofing System, abbreviated as TTR, is unique to Cox Roofing. As the only company offering this unique roofing system, the TTR provides maximum waterproofing protection even with the presence of roof punctures. Moreover, it also helps keep the interior of your building cooler since it reflects light from the sun. This translates to higher energy savings.
If you're wondering what TTR is made of, it's a combination of two separate roofing systems which are the spray applied polyurethane foam roof and the EDPM roofing material. This fuses the advantages of these separate roofing systems and eliminates their disadvantages as well. What's more, you'll be able to install roof landscapes and photovoltaic panels on top of the TTR.
Modified Bitumen Roofing
The modified bitumen roofing system is another asphalt-based roofing that's best suited for rooftops with high traffic – similar to the built-up roofing system. One of the main benefits of this material is that it can last up to more than 20 years. It's highly reflective, durable, and easy to apply.
Since modified bitumen roofing comes in 1-ply to 3-ply material, its likelihood to break varies. Of course, you would want to choose the 2 to 3-ply material though it can cost a bit more. Part of the installation process is the inclusion of granules which provide protective benefits from the heat of the sun.
Final Word
No matter what type of roofing in Mississauga you choose, remember to go for a roofing type that meets you and your business' needs. Lastly, hire roofing contractors Mississauga who have been in the industry for years and are skilled in handling different types of installations.