If you currently own or are planning to establish a commercial building, we're pretty sure that you've come across single ply membrane roofing system.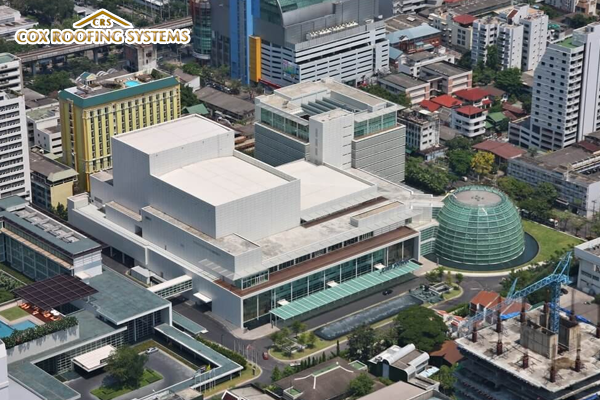 True to its name, a single ply roofing system is a type of roofing that contractors install in one layer. A lot of business owners in the last 30 years have chosen this material for its several advantages.
We've prepared this simple guide to educate you on the benefits of single ply roofing and its different types. In case you intend to get a new material for your commercial roof, you will find the information here useful.
4 Major Benefits of a Single Ply Membrane Roofing System
While single ply roofing systems exist in many forms, there are certain positive qualities that all of them share. Their benefits are the following:
1. Simple installation process
It will not take roofing contractors an entire day to install single ply roofing systems. All contractors and manufacturers agree with this. These systems are very lightweight and are cleaner to apply.
So, it doesn't matter whether contractors have to glue them down, fasten, or use heat application. How does this benefit commercial building owners and tenants? Of course, there will be less disruption of business-related activities.
2. Resists damage from UV rays and other environmental elements
Just like any other roof, single ply roofing systems are exposed to the heat of the sun and other outside elements. These factors speed up the deterioration of roofs, decreasing their lifespan.
However, a single ply membrane roofing system does not deteriorate that easily since they're designed to withstand the ultraviolet rays from the sun. Although not every single ply membrane roof can guarantee 100% protection, these materials do not get easily torn by strong winds, rain, and even debris.
3. Environmental friendliness
Would you like to play a role in achieving a greener planet? Consider a single ply roofing installation. After a single ply roofing reaches the end of its lifespan, contractors can recycle it. There will be fewer waste materials ending up in landfills.
Not only that, since this roofing system keeps the interior of a building cool, tenants do not always have to turn on their air conditioning systems. Environmentalists know that AC systems release harmful gases such as chlorofluorocarbons and hydrochlorofluorocarbons.
4. Reasonable pricing
The price of a single ply roofing membrane system depends on the manufacturer and the thickness of the material. Also, even if you think a single ply membrane has a high upfront cost, its long-term advantages make it very affordable.
You don't simply evaluate the real worth of a roof based on price. You consider other factors such as lifespan, durability, the level of comfort it provides, ease of installation, and more.
Types of Single Ply Roofing Systems
1. Thermoplastic Olefin (TPO)
TPO is a common choice for a commercial roof. You can choose from TPO's varying degree of thickness to meet your roofing requirements. If you want a color that suits your building, TPO comes in three beautiful colors – white, grey, and black.
Here at Cox Roofing Systems, we offer TPO that's manufactured by Firestone, a trusted name in the roofing industry. Our TPO single ply roofing is backed by a 30-year warranty and meets EPA's ENERGY STAR requirements. This guarantees energy efficiency for your building.
2. Ethylene Propylene Diene Terpolymer (EPDM)
EPDM roofs withstand extreme outdoor conditions. These include heavy rains, UV exposure, as well as harmful chemicals. Building owners prefer EPDM to end their water and moisture problems that shorter their roof's lifespan.
Another thing to note is that you can install EPDM all year round. Why? EPDM single ply roofing remains stable despite changes in temperature. Contractors can install it in environments with temperatures ranging from -29C to 177C. Many sources in the US claim that EPDM roofs last up to 50 years.
3. PVC (Polyvinyl Chloride)
With proper installation and regular maintenance, PVC single ply membrane roofing system has a service life of up to 20 years. According to Roof Cost Estimator, PVC roofs do not easily break. They have a breaking strength of about 350 pounds per inch. This is way above the minimum standard imposed by the American Society of Testing and Materials (ASTM).
Similar to EPDM roofs, PVC roofs resist damage from exposure to chemicals. If you're not aware, grease vents from restaurants decrease the lifespan of some single ply roofing systems. However, they do not affect a PVC roofing membrane.
Tri-Thermal Roofing System: A Better Alternative to a Single Ply Membrane Roofing System
Don't you know that you can have a longer lasting roof with benefits twice of that of a single-ply roofing system? How about a roof that is a combination of the EPDM single ply membrane roofing system and spray-applied polyurethane foam?
We're talking about the Tri-Thermal roofing system or the TTR. As an excellent roofing system, roofing contractors can simply install TTR over your existing commercial roof. If you prefer a roof retrofit to avoid the hassle and costs of a total roof replacement, consider the TTR.
The spray-applied polyurethane foam will prevent water from entering your building if in case something punctures the EPDM (although this is less likely to happen). Not only that, you can avoid the possibility of pests from entering your building through your roof.
Before You Go
Invest in a single ply roofing installation if you want a good roofing system for your business. With the 3 types of single ply roofing systems to choose from, surely, you already have something in mind.
However, if you want to eliminate all possibility of a roofing damage, you might need to consider the TTR.
Cox Roofing System specializes in installing single-ply roofing membranes and the TTR. We can help you upgrade your current roofing system with our trusted products.
Learn how we have helped companies run their businesses better with our roofing services. Better yet, get in touch with us today at 877-306-7031|[email protected].