Should your first choice for commercial flat roof types always be EPDM? Indeed, it is one of the best and most affordable options around. EPDM is a great long-term solution offering 30 years of durability, insulation, and protection. However, it is not the only flat roofing material useful for commercial properties.
While this list includes EPDM roofs, you have four other options that offer long-term durability for commercial properties as much as 40-50 years. Some of the materials listed require less to no regular maintenance at all. Save time and resources from installment to repairs with these five commercial flat roof materials.
Advantages of a Durable Flat Roof
Money-Saving
If your focus is durability, the price of certain materials might overwhelm you. However, consider the regular roofing maintenance and repair expenses you will spend by using sub-par roofing material.
A typical minor roof repair costs about $150-$400 depending on the time contractors spend fixing the roof. This would mean intermediate to major repairs could cost about $1,000-$3,000. If you look at your budget, you'll see it's a huge blow to your maintenance costs.
By spending about $15,000 inclusive of roofing material and installation labor, you'll spend less on roofing maintenance and repairs. It's a huge amount to cover during the start, but the long-term payoffs are significant.
Less Disruption
Time is the most valuable resource for any business. If your employees remain productive by maximizing their momentum, then the company gets all your projects, tasks, and deadlines in order. Having frequent roof maintenance and repairs causes plenty of roof foot traffic and activity causing disruptive noise pollution.
In addition, unattended roofing problems can reach disastrous levels to a point you'll need to dismiss an entire department. Worse even, you might have to call a holiday if the infrastructure became unstable due to a strong storm weak commercial flat roof types did not prevent effectively.
Internal leaks left unattended will weaken your roof and ceiling structure leading to expensive damages not just to the roof, but to your business facilities and equipment as well.
Long-Term Investment
Your accounting department has the best and fastest digital equipment to help them become more productive. In fact, their tools are on par or even above the competition. For this same reason, you should consider having a roof that is a long-term investment.
Competitors have enough resources each time they need to expand their business because they can safely cut costs for infrastructure maintenance and even utilities (due to insulation). You can do the same if you invest in a roof requiring less to no regular maintenance and only need minor repair services after an extremely dangerous weather situation.
Think about it: spending almost nothing for commercial flat roof types for an estimated 30-50 years. That's a huge expense off the books!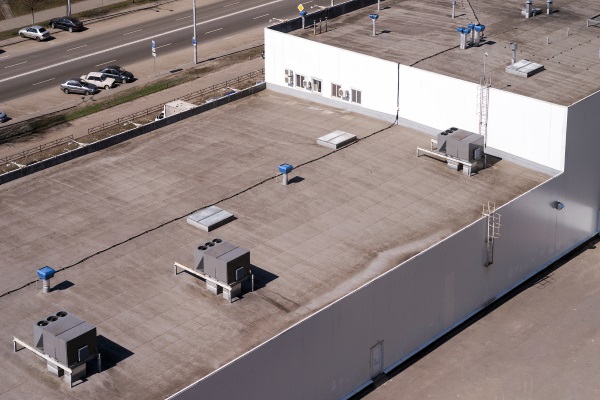 5 Long-Term Commercial Flat Roof Types
Metal Panel Roofs
Metal materials are durable and long-lasting or else medieval warriors would not consider using them for creating weapons and armor. If they can withstand stones and the piercing of equivalent metal materials, then they offer only the best protection for your commercial properties.
One commercial flat roof types useful in both flat and sloped situations, metal roofs made from stainless steel or aluminum have an estimated lifespan of 45-50 years. Their panels have a four-feet span capable of supporting a person (helpful during maintenance).
In addition, a special sealant on the edge of each seam ensures watertight protection. In consequence, it prevents any leakage and improves property insulation.
BUR/Tar & Gravel Roofs
Built-Up Roofing (BUR) systems made from tar and gravel materials is an expensive roofing system. In consequence, it can last 50 years and beyond.
Its capability comes from the layers of sandwiched tar. An average of five layers will guarantee excellent insulation, weather protection, and an airtight property seal. Some contractors could recommend as much as 20 sandwiched layers depending on the weather conditions the property needs to face.
Aside from tar, contractors may also use asphalt as a substitute. Used for building bridges and roofdecks on its own, asphalts used in BUR applications are as efficient as their tar counterparts.
Asphalt Roofs
As mentioned above, asphalt is a durable material that could last more than 50 years. It has an average lifespan of 10 years when used in high-traffic and heavy conditions such as roadworks and highways.
Hotels and industrial properties use asphalt roofing because it is affordable. A square foot of asphalt costs about $1-$10. Their installation is relatively cheaper if contractors apply a single spread over the flat roof. If used in a built-up roof system, the labor costs become a bit higher. However, they are still highly-efficient and long-lasting commercial flat roof types.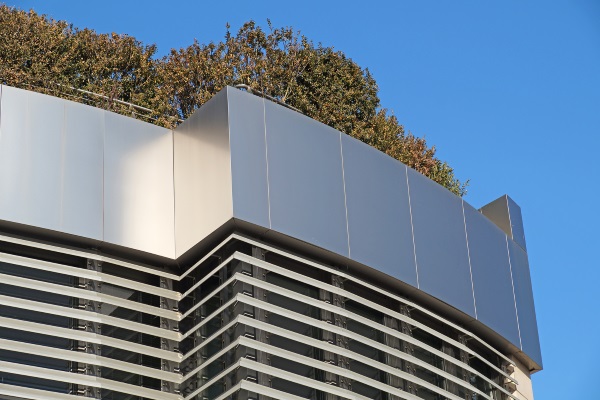 Two-Ply Modified Bitumen
Contractors typically torch down to its fiber base or use cold or hot mopping tar or asphalt adhesives for this material for commercial flat roof types. Property owners can also choose between using three different surfaces: smooth, mineral, or foil laminate. In addition, they have a ceramic coat that helps guarantee airtight insulation and protection against UV rays.
A two-ply system is more expensive. In consequence, it helps extend the commercial flat roof types' lifespans 40 years and beyond. In fact, two-ply modified bitumen roofing reduces or even does away with maintenance and repairs.
Single-Ply Synthetic Membranes (TPO, PVC, and EPDM)
Thermoplastic Olefin (TPO), Polyvinyl Chloride (PVC), and Ethylene Propylene Diene Monomer (EPDM) are affordable materials for commercial flat roof types contractors highly recommend. They are easy to install, are affordable, and have a lifespan of 30-50 years.
TPO and PVC roofs can block UV rays. Colored variants of EPDM improve its UV ray-blocking and insulating capacities. However, these materials, especially EPDM, are environmentally friendly because they are made from recycled materials.
Conclusion
Materials for commercial flat roof types are relatively affordable from an investment perspective. Saving up thousands from maintenance and repair costs by using durable, long-life roofing materials are great ways to improve the performance of your business. Without having to think of your roofs for half a century, you can focus on the things that matters the most in both finance and productivity.